News - 05/13/2010
What are iPad Users interested to? Productivity Apps, Games... or what?
According to data obtained from AppShopper, iPad users are disproportionately interested in productivity apps, while iPhone and iPod Touch users seem to love buying games.

The following graph shows the relative percentages of each app category with respect to its distribution in the Top 100 Paid Apps and All Apps in the App Store: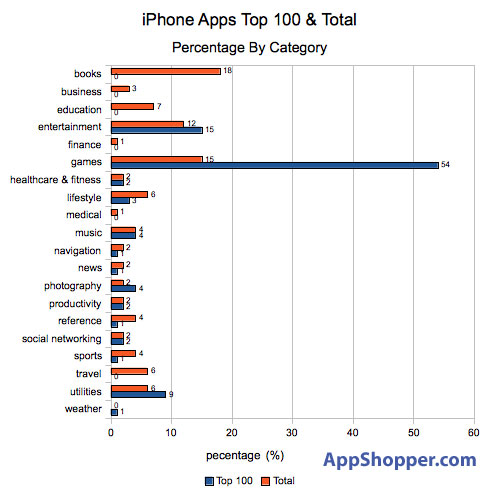 Despite the fact that games only represent 15% of the over 200,000 iPhone/iPod touch apps, games currently make up 54% of the Top 100 Paid apps in the App Store. The findings are likely reflective of the large iPod Touch population that make up nearly half of the 85 million iPhone OS devices out there. Apple has pushed the iPod Touch as gaming device in their advertising.

In fact, Apple has been so successful that Nintendo sees Apple as their biggest threat in the future.

Source:
macrumors.com
Back to ipodpalace.com News archive >>>
Please, let us know your opinion on our iPod surveys, it takes only a click!